Check out that 4X4! When RC4WD anounced the 1987 Toyota XtraCab hard body, with what I think is the best advertising video ever made, we had to make our own Marty McFly truck. When we received our XtraCab body from RC4WD I was still in a sling recovering from shoulder surgery, so I knew I we were going to need some help in making a wicked version of the McFly truck. Lucky for us our buddy Greg Holman was more than happy to help us create what is now a work of art.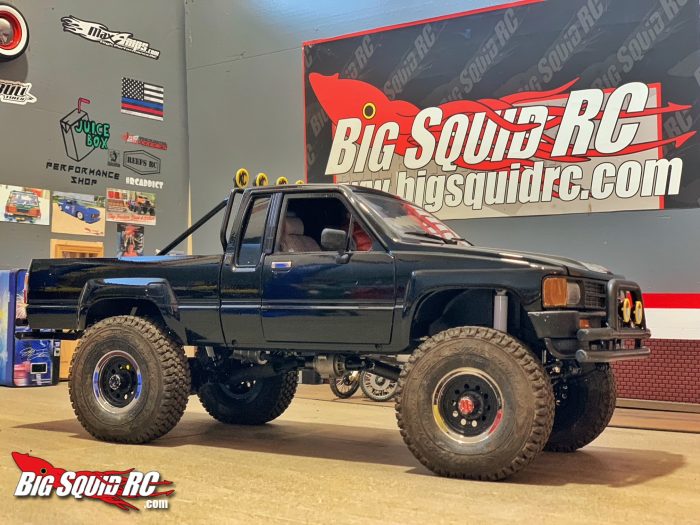 We had a game plan, finish the McFly truck and the DeLorean in time for the Ultimate Scale Truck Expo, and hope we could at least get a finalist banner for the GCM Racing gallery. Now normally getting a rig together will not take too long, but covid made the wait times on parts feel like old school dial up internet. Greg and I worked simultaneously from both of our shops, still being limited I was able to do the interior work while Greg took on the paint and engine bay. These days getting a 3D printed anything is a stone throw away, but this was the McFly truck and USTE, so we went with the best option and used a Scale Design by MrcommaD 22RE. Not only was the 22RE a perfect print but MrcommaD went the extra mile for us and supplied us with the reservoirs and break booster to make sure we had what we needed. Greg took it to the next level when he started adding things like the steering column and full exhausted, leaving no stoned unturned is the only way to be competitive in the GCM gallery. Incredibly pleased to say that the McFly Truck did end up on the finalist table for best engine bay but was beat out by another rig. Me personally I think we had the best one, but I am a little biased on the subject lol.
The RC4WD XtraCab was not the only RC4WD product we used; the tires are RC4WD Goodyear Wrangler All Terrain Adventure 1.9s with classic 10-hole beadlock wheels. On a downside we did lose the rear cap for the wheel at USTE and cannot seem to find a replacement. The bumpers are discontinued unfortunately but Greg happened to have them in his stockpile of RC parts. The body sits on a Trailfinder 2 LWB with the RC4WD scale Transmission to give it the upmost scale appearance. When you get right down to it, RC4WD is at the top of the scale food chain and have no plans on slowing down anytime soon.
We would like to thank RC4WD for support in the Marty McFly Truck build, it was a long road but a blast to work on. As always, we look forward too what RC4WD will come up with next.  And a big thanks to Greg for helping us get the job done while I was on the mend, next year we go for the gold!