DuraTrax expanding and updating Onyx line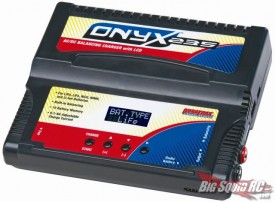 DuraTrax is adding some new features to one of their popular and affordable Onyx AC/DC peak chargers.  The new Onyx 235 takes the 230 and adds some essential new features.  Most importantly the 235 now features a built in LiPo cell balancer for properly charging and maintaining your LiPo batteries.  The 235 also increases both the cell count and amp output capability.  It's capable of charging up to 4S LiPos/LiFes and up to 10 cell NiMHs/NiCads at rates of up to 8 amps.  It also features a 10 battery memory, a universal radio port for charging tx/rx batteries, a USB port for charging personal electronics, and a Mini USB port for PC connectivity to update it's firmware.
DuraTrax expects the 235 to start hitting shelves in early February with an MSRP of $139.99.  Check out DuraTrax's web site for more info.